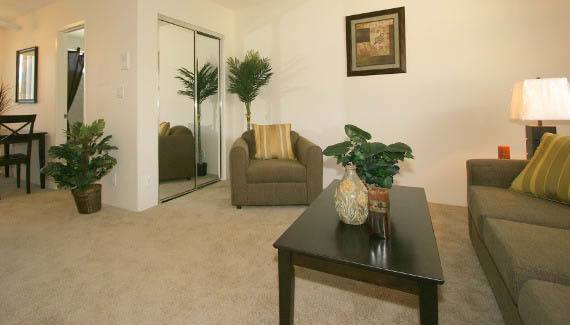 Furnished Studios, 1 and 2 Bedroom Apartments in Van Nuys, CA
The Promenade Apartment community offers three different floor plan styles for you to choose from—furnished studio, 1 bedroom, and 2 bedroom. These different options mean you can enjoy the Promenade's location and community as well as a layout that works for you. All three styles are clean, bright, and open, with plenty of storage space and room to arrange your furniture and décor exactly the way you like it.
Our Floor Plans
Designed with your lifestyle in mind, the living spaces at the Promenade Apartment community are perfect places to start building a life you love. The simple yet spacious feel, up-to-date interiors and appliances, and modern-cozy look are contributing pieces to your home. In addition to all these quality features, we understand that your life is made up of everyday moments. Game night in with friends? Put on a little music and mix up something tasty in the kitchen. Rainy weekend afternoon? Relax in the bedroom or living area with your favorite book or TV show. 
No matter what your busy days hold, it's the experiences around you that define your life. A great floor plan is a great starting point. And the Promenade Apartment community is here to support everything you adventure toward after that, too.
Call or email us today to schedule a tour of our model apartment homes. We look forward to meeting you